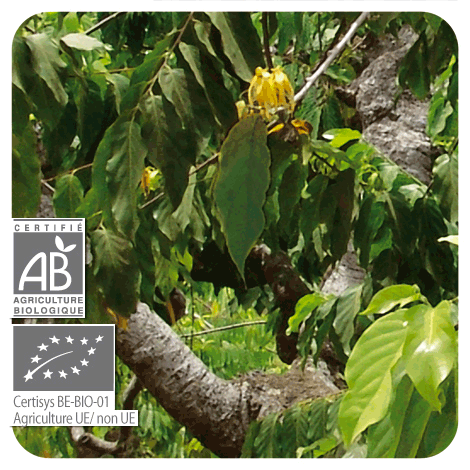 You're most likely not new to the essential oil game. You've used their fresh scents to fill your home, office, and even add an extra zing to your laundry detergent. We're sure you already know that they are often added to natural cosmetics like perfume, soap, and lotions. Essential oils offer a wide variety of health benefits, but do you truly understand the natural powers of Ylang Ylang essential oil?
What is Ylang Ylang Essential Oil?
This powerful essence is found in star-shaped flowers of the "Cananga odorata" tree in Ecuador, Madagascar, Philippines, and Indonesia, Ylang Ylang oil has been said to offer many health benefits. Aside from its health benefits, Ylang Ylang's sweet, rich, and almost spicy aroma makes it the perfect ingredient for many luxury skincare, hair, and relaxation products. Fun fact: Ylang Ylang essential oil is found in the popular CHANEL's "BOIS DES ILES" perfume for enhanced warmth and mystery.
But one of the coolest things about Ylang Ylang essential oil is that its key active component is linalool, which is known to have stress-reducing properties. Therefore, inhaling the Ylang Ylang aroma or applying it onto your skin is believed to help you control your emotions. Many aromatherapists also suggest that Ylang Ylang is effective at regulating the heart rate, stress levels, blood pressure, breathing, and support the immune function. But that's not all Ylang Ylang has to offer you . . .
Ylang Ylang has also been used to help many health conditions, mainly improving mood, helps to relax the mind and enhancing libido.
And, it can also be used for:
Anxiety and agitation
Feelings of despair
Insomnia
Headaches
Soothing sore muscles
Daily skincare
Ylang Ylang is used in many health-related industries. In cosmetics, it's been used as a complementary asset to fight against hair loss, and in a massage, it rebalances the nervous system by fighting off inflammation, pain, and even helping with insomnia. In aromatherapy, this essential oil sharpens your senses, while regulating your emotions by dampening your feelings of sadness, fear, anger, and even jealousy.
Because of its libido-enhancing properties, Ylang Ylang has been used for many centuries in religious ceremonies and rituals, such as weddings. In Indonesia, it's a tradition to spread the Ylang Ylang flowers on the bride's bed to ensure the sweetest first night of marriage.
Ylang Ylang blends well with Frankincense and/or Patchouli to help you unwind when it is time for bed.

How to Use Ylang Ylang Essential Oils
No doubt you're already familiar with the different ways to use your essential oils. But if you're looking for the best ways to maximize the Ylang Ylang oil's health benefits, then we suggest using the essential oils in these ways:
Add 2-4 drops of Ylang Ylang oil to 10 ml of neutral Pranarom vegetable carrier oil and apply it to the affected area up to 3 times daily by either compressing it or adding it to a bath. For body massages, apply only once a day. Do not use Ylang Ylang essential oil undiluted on the skin.
Apply 1-6 drops of pure essential oil to an inhaler stick, a handkerchief or tissue and inhale deeply up to 3 times a day. You can also use it on aroma stones, fans, diffusers, and essential oil pendant. When you inhale essential oils, it stimulates your olfactory system, which has the power to foster a better mood, work performance, and even your behavior.
Another option is to use Ylang Ylang essential oil in a diffuser. Add 1-6 drops of undiluted oil into an ultrasonic (Hiko) or atmospheric diffuser (Nobile). Always remember to follow the instructions for the diffuser you use.
The Ylang Ylang Distillation Process
They say that all good things are worth fighting for. And there's no truer phrase when learning how Ylang Ylang essential oil is made.
The Ylang Ylang essential oil is distilled from the flowers of the "Cananga odorata" tree. The oil is collected in 5 separate batches over a period of 10-20 hours. To put it in perspective, one hundred kilos of fresh flowers will give between 2 and 2.5 kilos of essential oil! But, even though it takes a long time to make, it's so worth it!
Why Our Essential Oils Are Different?
Making Ylang Ylang essential oil is tedious work and unfortunately, as most Ylang Ylang producers are no longer reliable. The workaround is to cut corners, and an easy way to do that is to use less Ylang Ylang oil in each container. Less Ylang Ylang equals less work, so more money in their pockets. But, this hurts you because you miss out on the deeper health benefits!
The sad truth is that most companies add other oils like mineral oil, vegetable oil, or another essential oil to add volume to the container; some companies even add coconut oil or an extra grade to fill the bottle.
That is not the Pranarōm way! In order to make sure we're selling honest products, we perform chromatography (or the separation of each essential oil) to make sure you understand exactly what's inside each product. We do this for you because we think you deserve to know exactly what's going in, or on your body.
If you're ready to truly understand the epic natural powers of Ylang Ylang essential oil, then it's time to try it for yourself. Add it to a daily moisturizer, steamy bath, or even diffuse it in your home for a therapeutic, relaxing experience. Plus, when you place your order for Ylang Ylang essential oil today, you'll receive 23% OFF! (For a limited time only.)