This is PART 2 of a 2-part series on Aromatherapy Massage. Check out PART 1 if you haven't yet!
So, what's the link between aromatherapy and massage?
Where do essential oils come in?
Essential oils are used to enhance the beneficial qualities of the massage.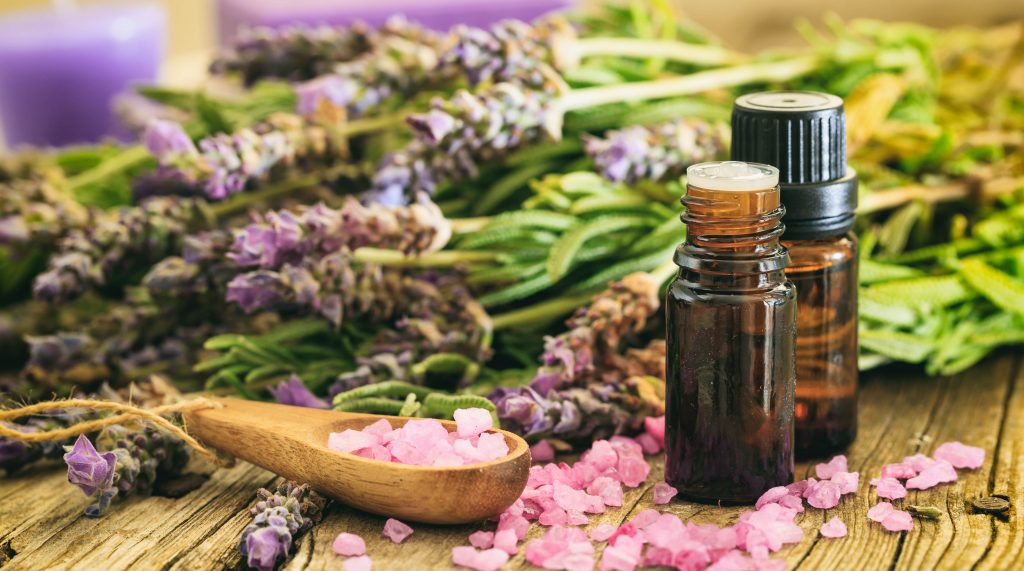 For example, essential oils with analgesic properties can enhance the pain-relieving effects of massage, calming essential oils can enhance the relaxing properties as well as set the proper tone (i.e. frame of mind) required for a massage, etc.
What is an aromatherapy massage?
You guessed it: aromatherapy massage is simply massage combined with the use of essential oils.
However, there is no such thing as "a aromatherapy massage", there are types of them.
The massage will depend on several factors: the massage therapist (their training, background, preferences), the choice of technique(s) used, the situation (i.e. circumstances) of the visit, the targeted issue, etc.
Generally speaking, there are certain "schools" (i.e. philosophies which form the basis of massage methods and techniques) as well as certain massage techniques commonly found in aromatherapy massage.
Swedish massage: the most commonly used in aromatherapy massage
Acupressure
Craniosacral therapy
Deep tissue massage
Lymphatic massage
Neuromuscular massage
Polarity Therapy
Reflexology
Reiki
Rolfing
Shiatsu
Therapeutic touch
How to Use Essential Oils in Massage
For massage, essential oils are diluted in a carrier oil; the standard carrier oil being a vegetable oil.
Generally, no one vegetable oil is better than another, the differences are found in the properties of the oils and the qualities that they bring.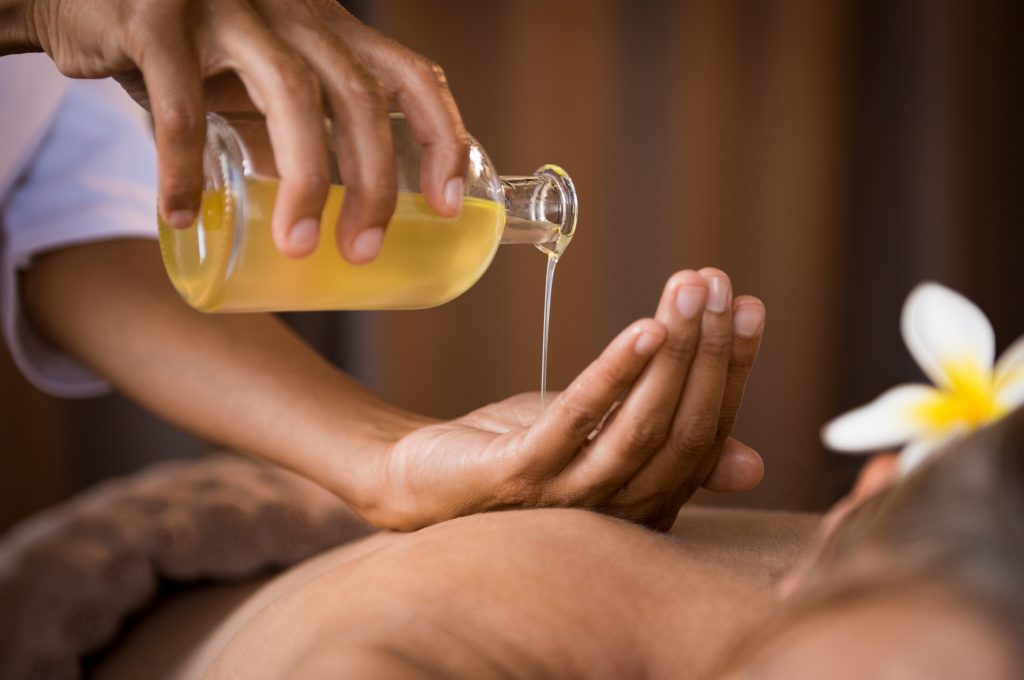 For massage, it is recommended that you use a cold-pressed, unrefined vegetable oil as base for your dilution[3]. Also, using a certified organic vegetable oil will ensure there are no fertilizers, pesticides or fungicides have been used in its production.
The recommended dilution rate for massage is 1-3%, which equates to 1-3 ml of essential oil to 100 ml of carrier oil.[4]
Here are some of examples of oils that can be used in massage[5]:
Almond oil: good for all skin types, especially good for dry or irritated skin
Avocado oil: easily absorbed into the deep tissues and therefore excellent for mature skin
Carrot oil: good source of beta carotene and useful for healing scar tissue, soothing acne and irritated skin
Evening Primrose oil: useful for the relief of eczema, psoriasis, dry skin, and more.
Grapeseed oil : non-greasy oil that suits all skin types
Hazelnut oil: good for oily skins
Jojoba oil: good for all skin types and penetrates more easily than other oils; excellent for massaging faces with sensitive or oily complexions, and useful for the treatment of acne
Olive oil: too sticky for massage, but can be a good addition in a blend for mature or dry skin
Peachnut oil: particularly good for face massage
Safflower oil: light texture and penetrates the skin well, cheap and available
Sweet almond oil: One of the more popular carrier oils, this is an excellent emollient that nourishes dry skin, and helps to soothe inflammation.
Wheat Germ oil: rich in vitamin E and useful for mature or dry skin; known for its ability to heal scar tissue, smooth stretch marks and soothe burns.
Contra-Indications to Aromatherapy Massage
There are a few instances when aromatherapy massage is not advised or should be used with caution[6].
Abnormal body temperature: do not give or receive a massage if you have a fever.
Post-surgery: always consult your health care practitioner or surgeon before considering a massage after a surgery.
Heart conditions: if you have a heart condition (or have had heart issues in the past), massage may not be advisable. Consult your health care practitioner first.
Varicose veins: proceed with caution, only use very light pressure and use upward strokes only.
Infectious disease: do not massage any topical infectious disease; instead, use essential oil compresses. For respiratory infections like sore throat, chest massage is advisable.
Cancer: there is controversy as to whether massage is advisable for cancer patients (related to the lymph displacement effect of massage). Always check first with your health care practitioner before considering massage in this case.
Inflamed joints: massage can be very painful on the areas of inflammation, so use compresses instead or massage above the affected area.
Fractures and large areas of scar tissue: do not massage a recent fracture or large area of scar tissue for at least 2 months.
Osteoporosis: massage is to be avoided for osteoporosis patients.
Intoxication: do not receive or give a massage to someone who is intoxicated.
Essential Oil Blends for Massage
Looking for essential oil blends for your next massage? Here are some ideas[7]:
For a relaxing aromatic massage, try:
For a soothing massage, try:
For a calming massage, try:
For a massage to relieve sore muscles, try:
For a purifying and cleansing blend, try:
*Note: Each blend makes for 1 fl oz (30 ml)
---
[1] Lis-Balchin, Maria. Aromatherapy Science: A Guide for Healthcare Professionals. Pharmaceutical Press, 2006. P. 21-22
[2] Battaglia, Salvatore. The Complete Guide to Aromatherapy. The International Centre of Holistic Aromatherapy, 2003. P.376-379
[3] Heat-treated oils lose some of their nutritional value. (Lacroix, Nitya, and Sharon Seiger. The Book of Massage & Aromatherapy. Lorenz Books, 2002. p.37)
[4] Battaglia, Salvatore. The Complete Guide to Aromatherapy. The International Centre of Holistic Aromatherapy, 2003. P. 369
[5] Lacroix, Nitya, and Sharon Seiger. The Book of Massage & Aromatherapy. Lorenz Books, 2002. P. 38-39
[6] Ibid, P.369, 381
[7] Cross, Claire et al. Essential Oils: All-Natural Remedies and Recipes for Your Mind, Body, and Home. Dorling Kindersley Limited, 2016.