Aromanoctis Relaxing Sleep Spray
We live in a world that evolves every second. There's so much happening around us that it generally takes a toll on our health. In situations like these, there is only one thing that comes to your rescue; sleep. Sound sleep is a God-sent gift for us humans to recharge ourselves to get prepared to face the next day.
But, many among us are unable to get a relaxing sleep. Are you also one of those having problems in getting a refreshing sleep? Do you constantly toss and turn every night? Is your personal as well as professional life suffering due to it?
Fret not, for we at Pranarōm, have a solution for you. For the people who have trouble getting sound sleep naturally, we have something as close to natural as it can be with the Aromanoctis Relaxing Sleep Spray.  You can say goodbye to all your sleep concerns with the health benefits of essential oils.
What is Aromanoctis Relaxing Sleep Spray:
The Sleep Spray is enriched with unique essential oils blends and has a soothing, calming smell. It is scientifically proven that these particular and soothing scents can help induce sleep. Aromanoctis Relaxing Sleep Spray by Pranarōm is used as a nervine and calmative in aromatherapy, and it helps to promote relaxation and ultimately induces sleep.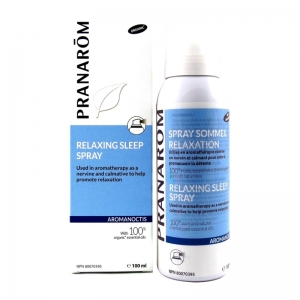 Key Benefits of Aromanoctis Relaxing Sleep Spray:
Provides relaxation
Reduces repetitive thoughts that hinder sleeping
Facilitates sleep and prevents recurrent waking up at night
What it contains:
The Aromanoctis Relaxing Sleep Spray by Pranarōm is a purely organic product enriched with a unique formula of essential oils that can do wonders for you. The major ingredients are Organic Essential Oils of Sweet Orange, Petitgrain, Roman Chamomile, Bergamot, Lavender, and Mandarin Orange. For someone who's unaware, or finds it difficult to use essential oils, this easy to use spray solves all those problems with the carefully curated therapeutic blend.
How to use it:
It is very easy to use the Aromanoctis Relaxing Sleep Spray. All you have to do it spray it at night, either directly into the textiles or into the air. You can spray it for 3-4 seconds into your pillow, bed sheet, or even on a handkerchief. You can spray Aromanoctis Relaxing Sleep Spray by Pranarōm daily, 15 minutes prior to your bedtime allowing it to mix in, thus avoiding direct contact.
Points to remember:
It is not meant for oral use.
Avoid using it near your eyes and mucous membranes. If it happens, you can rinse the area with vegetable oil.
Not fit for children and keep it out of their reach.
It is flammable, and therefore it must be stored in a cool place. Do not keep it at a place with a temperature beyond 50°C.
Do not use if you are pregnant or breastfeeding asthe use of essential oils during pregnancy are not recommended in most cases.
If you feel nauseous, dizzy, or have a headache, stop using it.
The Aromanoctis Relaxing Sleep Spray is a life-altering product. With a combination of safe and trusted essential oils, that provide a wide array of health benefits Aromanoctis Relaxing Sleep Spray by Pranarōm gives you a natural solution to sleeping issues. You can depend on this sleep spray to give you the relaxation that you so badly need. With a refreshing night's sleep, you can be present at the moment and live your life to the fullest. So, get this product today to get your life back on track.